A great fireplace adds beauty, function, and delight to a space. It creates a natural sense of "home" and safety, inside or out. As you consider your ideal patio space this summer, take inspiration from these outdoor fireplaces.
Lakefront Splendor
Entertain at night with a tabletop fire pit. Surrounded by comfortable seating, a fire pit is a casual, friendly gathering point for summer evenings. Its open flames add beauty and texture to a space without impeding the views beyond.
Moroccan Charm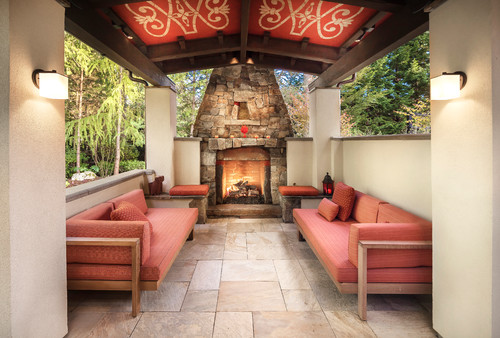 The Glassworks Remodel proves that a stale space can find new life. Inspired by the rich textures of Morocco, the back patio design features a covered seating area with a stone fireplace and ample seating. The textured rock of the chimney and mantle adds a character-filled focal point.
Cedar Haven
Cedar Haven thrives on rustic grandeur. Tucked in a Pacific Northwest alpine forest, the home boasts a spacious covered patio complete with a massive fireplace. The rough rock fireplace and natural cedar pillars perfectly carry the beauty of the environment through to the nature-inspired interior.
Canvas and Light
Canvas and Light embraces bright, cozy spaces at every turn. Outside, an exquisite back porch offers a stout bric fireplace and views to the garden.
Meydenbauer Place
Meydenbauer Place exemplifies the best of contemporary style. A ribbon tabletop fireplace creates a warm, chic space for the owners to lounge on summer evenings.
Modern or traditional, rustic or chic, there's an outdoor fireplace to fit any home style.
Gelotte Hommas Drivdahl Architecture approaches every home design with an eye to the client's unique needs and tastes. From contemporary residences to a traditional homes, we create spaces that work in harmony and provide beauty for daily life. Contact us to learn more about building your custom home.