"For everyone is a visionary, if you scratch him deep enough. But the Celt, unlike any other, is a visionary without scratching." W.B. Yeats
The natural beauty of green features well in both interior and exterior home design. We've collected a few of our favorite verdant features.
1. Vibrant Bedroom
This bedroom comes to life with lime green walls, purple bedding, warm wood tones, and a glistening black concrete floor. The verdant theme continues into the adjoining room with a spacious green rug. Even throughout the rainy days of winter, this bedroom is a constant reminder of spring!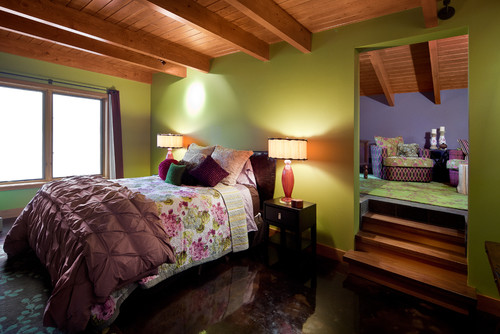 2. Lively Playroom
Green walls infuse a fresh, vibrant look into this spacious playroom. White trim and built-ins paired with beige carpet balance the room and ensure vibrance without overwhelming visitors.
3. Inviting Furniture
Use green to add a sophisticated splash of color to an overall neutral room. A pale green hutch and a mossy green chair cushion remain consistent with the natural, French country style while providing contrast to the neutral colors and natural woods throughout room.
4. Indoor Garden
Bring natural greens inside. This custom Seattle home invites the warmth of the outdoors into the comfort of a luxurious master bathroom. The stone walls and walkway of the private courtyard merge into the master grotto shower and bath. Small trees, vines, potted plants, and a rhododendron create a serene setting in which to enjoy a warm bath.
5. Top It Off
Bellevue architect Curt Gelotte topped off this custom Cabin on Lake Wenatchee with a green seamed metal roof. Crowning wood trusses, metal siding, and a stone wall, the green roof adds further intrigue to the exterior home design. The pine green roof melds with the surrounding woods without disappearing into them.
Gelotte Hommas Drivdahl Architecture approaches every home design with an eye to the client's unique needs and tastes. From contemporary residences to a traditional homes, we create spaces that work in harmony and provide beauty for daily life. Contact us to learn more about building your custom home.