Creating a sense of beauty at home encompasses every aspect of a property—from the front entrance to the upstairs hallway to the backyard. Every aspect of your custom home should work in harmony. At Woodway Manor, Gelotte Hommas Drivdahl architects crafted thoughtful outdoor spaces that speak to the character and beauty of the traditional style home.
Welcoming Entry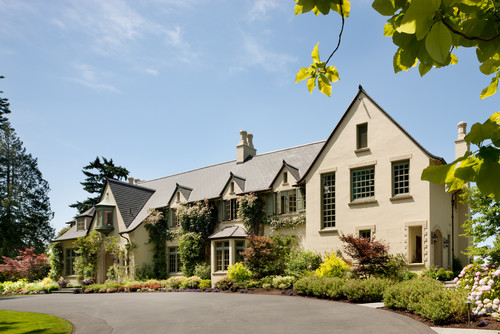 From first approach, Woodway Manor leans into its roots. A long, winding driveway leads to the front entrance. Ample foliage frames the home and latticed vines call out the timelessness of the historic property. The landscape architecture works with the traditional style home, rooting it in its proper context and framing it with natural beauty.
Private Patio
The home offers a quiet patio, just off the main outdoor gathering spaces. Surrounded by garden, the corner is a place of respite, easily accessible but welcomingly out of the way.
Open Space
The traditional style home embraces the open beauty of a sprawling lawn. The open backyard lets the home breathe and stand in beauty. The distance of tall trees from the house allows for privacy around the perimeter without impeding natural light.
Poolside
The back patio creates a welcoming gathering space. Dining table, pool house, pergola, and firepit merge in functional, beautiful outdoor space in keeping with the home's style. Landscaping consistent with the front entry hugs the home.
Gelotte Hommas Drivdahl Architecture approaches every home design with an eye to the client's unique needs and tastes. From contemporary residences to a traditional homes, we create spaces that work in harmony and provide beauty for daily life. Contact us to learn more about building your custom home.