With the 4th of July holiday this weekend, many people probably wish they had a pool in their backyard in which to cool off. You may think that a pool will only fit a certain type of house, but these days a home pool can be designed to fit with any architectural style.
When designing a home pool area, it is great to have multiple levels of patio and poolside space. These stairs create a dramatic entrance to the pool area and continue the classic design of the home into the outdoors.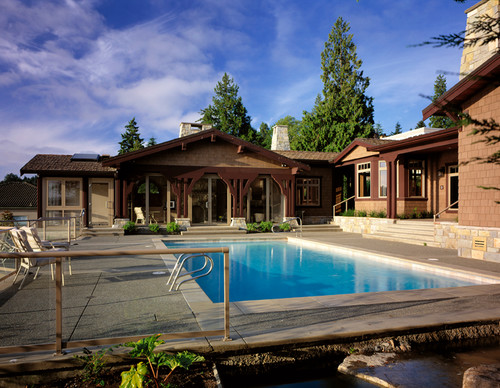 A prairie or craftsman style home is not necessarily one we associate with having a pool but they fit quite well together. The design here is much less formal but still creates a relaxing ambiance with plenty of space to entertain.
And contemporary homes accommodate pools particularly well. If space allows, as it does here, having grass near the pool area extends the space and allows for games and other activities.
Keep in mind that the backyard pools featured above are all standard sized rectangular pools. Other shapes and sizes abound to accent your architectural style. If you are considering a pool for your new home, or hope to remodel an existing space, then contact Gelotte Hommas Architecture to learn about more options.