Here at Gelotte Hommas Architecture we don't just design and build amazing custom homes. We also remodel existing homes into dream spaces. Glassworks is exactly that–a Moroccan style home born from inspired home remodeling.
The family wanted a Moroccan style outdoor living area complete with comfortable seating, a dining area and a cooking area. The seating area, pictured below, is the perfect spot to spend those spring and fall evenings when the weather is nice but still a bit chilly. The gas fireplace offers warmth and style while being easy to deal with. Dark wood beams for the ceiling and the brightly painted panels complete the theme.
The cooking area did not need to be large but functionality was still important. A gas grill, sink, dishwasher and plenty of storage space make party central for the summer. The dark wood beams are repeated in this area as well as a clear roof. This keeps the weather out while letting in the sun allowing this space to be used rain or shine.
Small details such as this elephant carved into the end of a beam create whimsy and tie in the Moroccan theme the home owners were looking for. When designing a space many people focus only on the large aspects and forget to add memorable details or subtle finishes.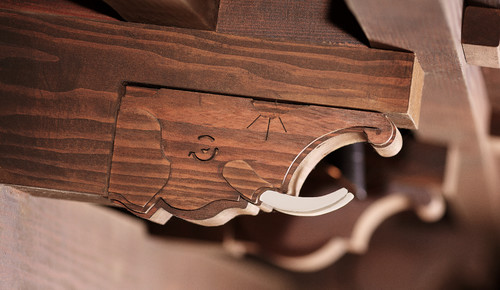 In the end the family was thrilled with their new outdoor living space. If you would like to learn about the possibilities for your own summer spot then contact us today.