Classic or contemporary, the kitchen is the center of the home. Industry experts report that while overall home size is getting smaller, particularly in urban areas, kitchen sizes are staying the same or even getting larger. This is due to the fact that the kitchen has replaced the living room as the central gathering place for the home. Current layouts are more likely to favor open floor-plans and combine an open kitchen and living room into one large space.
1. The Alpine Kitchen
This alpine home exemplifies the integrated kitchen concept. The kitchen is centered in the main living space with a breakfast nook and seating area flanking it. The space is open and uncluttered but there is still the impression of distinct yet connected spaces areas.
2. The Classic Family Space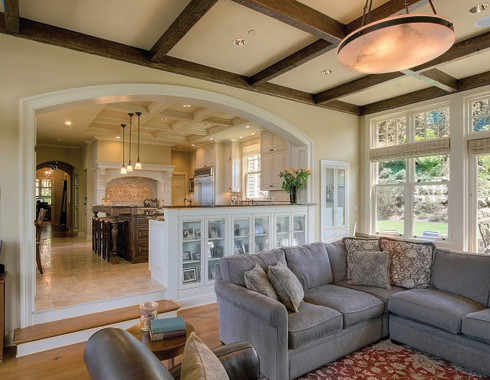 Northeast by Northwest's kitchen arrangement offers the same benefits of a completely open floor plan but the space feels more defined. The kitchen, along with a dining area to the left, occupy one area while a partition and steps differentiates the living room. However, the low wall does not disrupt the line of sight and there is still a great deal of flow between the two rooms.
3. The Contemporary Open Kitchen
Meydenbauer Place embodies the best of contemporary kitchen design. Ample light, sleek cabinetry, and two islands create a versatile space for family living. A breakfast nook offers lakefront views and French doors allow easy access to the backyard. A glass countertop adds intrigue to the clean, modern lines of the room. The dining room sits just off the kitchen for a seamless kitchen space.
If you are thinking about making the kitchen the center of your new home, or need to knock down a few walls in an existing home, we'd be honored to guide you through the home design journey. Contact us to begin the conversation.